Divorce Lawyers in Chandler, Arizona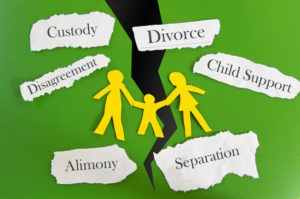 Divorce can be one of the most difficult times in your life. You may be facing many uncertainties. For example, you may wonder where your children will live after you and your ex separate. Or, you may be wondering how you will split your assets and debts. The paperwork alone associated with filing for divorce can be overwhelming for many individuals who may already be overwhelmed by the emotional toll that divorce can take.
Arizona is a "no fault" divorce state, meaning that you do not need to prove any grounds to file for divorce. However, if you are getting divorced due to reasons of adultery, financial abuse, physical abuse, or due to other serious issues, these factors may play a role in how property, debts, and child custody matters are handled. Whether your divorce involves children, high-value assets, retirement plans, property, or debts, it can be incredibly helpful to speak to a qualified divorce attorney in Chandler, Arizona at the Zachary Law Group. Our firm can review your unique circumstances, help you understand your rights, and fight to help you get the best possible outcome for your divorce settlement.
Most Common Divorce Issues in Chandler, Arizona 
Children and finances are the two most common issues that can arise during the divorce settlement process that can slow the process down. It is important to understand that the decisions you make while settling your divorce can have a major impact on your financial life and personal life for years to come. Before finalizing your divorce or agreeing to terms that make you feel uncomfortable, you may want to speak to the Zachary Law Group, a divorce lawyer in Chandler, Arizona. While it is understandable to want to settle your divorce as soon as possible and move on to the next chapter in your life, if you rush the process or sign a settlement without knowing your rights, you could give up important rights forever. Here are some common divorce issues that can make a divorce settlement more complicated:
Division of Property. Arizona is a community property state, meaning that anything you and your former spouse acquired, purchased, or earned during the marriage will belong to the both of you. During the process of dividing property, you and your ex may disagree about certain items. If this occurs, a divorce lawyer can help you barter and trade for items you both want, or you can sell the items and divide the proceeds between you.
Dividing Debts. If you have debts, you can pay off the debts, or you'll have to determine who owns which debt. If the debt is in both your names, you'll have to decide who will be responsible or whether both parties will be responsible. Be aware that any debt with your name on it can hurt your credit regardless of your divorce decree. If you plan to split debts with your ex, you'll want to ensure that debts for which each party is solely responsible appear only in that person's name. This can be a complex process, so it helps to have a Chandler Arizona divorce law firm like the Zachary Law Group on your side. Another issue that can arise during the division of debts is when a person is subject to financial abuse. If your ex ran up debts without your knowledge in your name, it is important to have a qualified divorce lawyer on your side, helping you navigate the process of dividing debts and protecting your rights. If you believe your ex racked up debt while committing adultery, you may also have certain rights here.
Tax Implications of Divorce. There are many tax implications that go along with divorce. If one partner pays alimony, new tax law will change how alimony can be classified for tax deductible purposes. It is important to speak to both your attorney and your accountant about the tax implications of your divorce settlement. Sometimes one partner thinks they are getting a great deal, but then they learn about the tax burden they will face and decide to renegotiate their divorce settlement before finalizing it.
Retirement Plans. It is possible to divide retirement plans during divorce, but the process can be complicated and it is important to get it right, or you could face serious tax penalties and consequences. Individuals who fail to divide retirement accounts properly can face early withdrawal penalties.
Property and Shared Homes. If you own a home or property, decisions will need to be made about who keeps the family home, or whether it will be sold and assets divided. Before choosing to keep the family home, you'll need to ask yourself whether you are able to pay the cost of the mortgage and taxes. Sometimes individuals take on mortgages or homes they cannot afford. As a general rule, it will cost more to maintain two households than it did to maintain a single household.
Parenting Time. Making decisions about parenting time can also be the most emotionally fraught aspect of any divorce. The courts generally want to see both parents agree to a parenting plan outside of court. In fact, it is often in your best interests to come to an agreement outside of court. Failure to do so can result in your case going before a judge, and sometimes a judge makes a decision neither parent wants.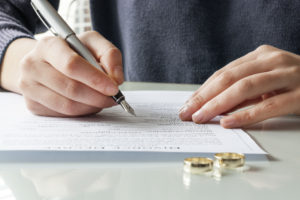 If you are considering getting divorced, you need an experienced Chandler AZ divorce attorney with the Zachary Law Group on your side. Our firm can review your financial circumstances, your needs, goals, and help you develop a divorce agreement that is in your best interests. Contact us today to protect your rights and learn more about how we can help you navigate the divorce process.
How to Get Divorced in Chandler, Arizona
In order to get divorced in Chandler, Arizona you will need to file a Petition for Dissolution of Marriage. You must have been a resident of Arizona for at least 90 days in order to get divorced in the state. You'll also need to ensure that your ex is served the paperwork in a timely manner. Finally, you and your ex will need to reach a divorce agreement regarding the division of your assets, debts, and have parenting time plans in place, if you have children. These concerns can sometimes be complex. While it is possible to get divorced without the assistance of a divorce lawyer in Chandler Arizona, it is highly advisable that divorcing individuals hire a lawyer. The Chandler Arizona divorce law firm  Zachary Law Group can help you navigate these questions and concerns while protecting your rights. Contact us today to learn more.
​If you need a divorce attorney in Chandler, then look no further.
Zachary Law Group is without question the law firm you want to hire. Its founder, Steven Zachary, has a strong background including nearly 30 years of legal experience.
After years of practicing law in both Minnesota and Arizona, Steven Zachary opened Zachary Law Group.  His desire has always been to have a law firm dedicated to helping individuals and families through their difficult legal issues.
DIVORCE ATTORNEY IN CHANDLER, ARIZONA
Being a divorce attorney is only one of our legal areas of expertise. Our attorneys also have many years of experience in criminal defense, drug law, domestic violence cases, bankruptcy, and estate planning. And since we are a member of the Better Business Bureau, you can feel confident that you've selected the best firm.
Chandler Law Group
At Zachary Law Group, PLC, we're pleased to serve the legal needs of Chandler. We are here to assist you in any law issue, whether it be divorce attorney or another type of case. Having an experienced divorce attorney in Chandler on your case makes a difference.
Call Zachary Law Group Today at 480.389.3533